According to
KFB
, There is an ongoing protest in UNILAG, vehicles have been barred from going in or out, the unilag gate is shut, no lectures, students are angry and pissed off, visitors are trapped in the campus, we can't go out and it's so annoying! There is a heavy traffic in and outside the school and the drivers have abandoned their vehicles.
The students are moving round the campus holding leaves and tree branches and singing "We no gree, we no gree, no more exploitation..We won't pay! We won't pay!! We won't pay!!! We won't pay!!! We won't pay!!!We go fight una...Everything in unilag is all abt money. Why??? Are we slaves....They make the School so Bitter for the Low Class students."
They are angry that they have to pay N15,000 to HIRE convocation gown which holds next week, angry that they have to pay N20,000 to edit their course forms online (late registration fee). Continue..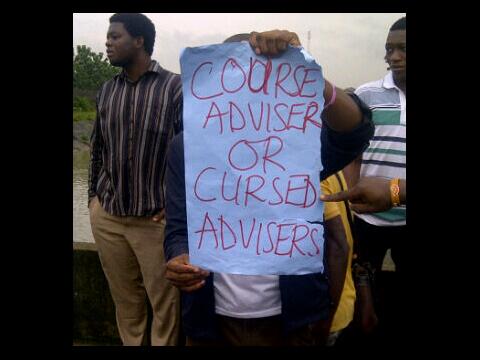 There are no security men to stop them and even the few lecturers around have shut their office doors to prevent the students from attacking them. More details and photos coming up asap.